Schedule an Appointment to Shop for your Bridal Gown
By Appointment Only
It's our experience that YES! happens most when the bride and her stylist are totally ready for each other! As such, we are by appointment only to allow us both the opportunity to prepare for your visit.
Seriously Personalized Service Here
Our experience starts before you even walk through our doors. Fill out this form below, and our owner, Tanya, will give you a call to discuss all of the details of your wedding day look and set your appointment date/time. Don't worry - your card will NOT be charged until you set your appointment date/time!
Note: You are requesting a date ONLY (which is why the only time shown is 12:00am). A time will be set during our booking call.
Our Guest Count + Reservation Fee
We invite brides to bring up to 3 guests to our Classic Gilded Experience.
Reserve an Entourage upgrade to bring up to 5 guests! (Note: You will not be able to select 5 guests on the form, but we will automatically increase it to 5 when you reserve an Entourage upgrade.)
When you shop with us, you will always have both a dedicated dressing area & expert stylist for your entire appointment. Plus, we do a LOT of prep work ahead of your visit to ensure you walk out saying YES! For that, there is a $49 non-refundable fee for every appointment booked. All appointment upgrade fees are non-refundable.
Helpful Bits & Tips
When brides know exactly what to expect ahead of time, it makes for much better experience during their visit. We've collected the most important information at the link below. There are also appointment policies to note (like our cancellation policy), so definitely give the link below a look before you book!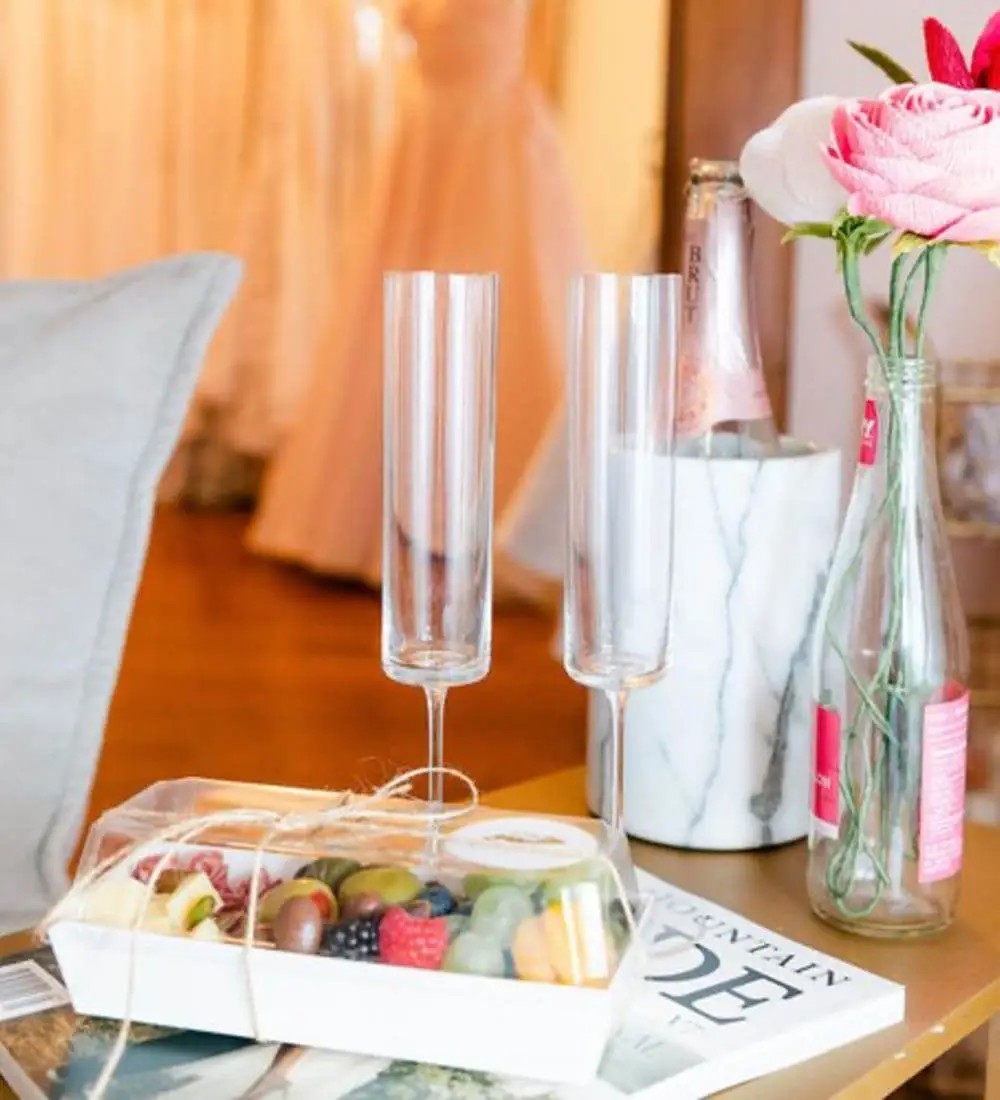 Create Your Own Ultimate Bridal Shopping Experience
Our appointments are designed to be the most personal you'll experience on your bridal shopping journey. We guarantee it!
Want to create your own personalized visit to Gilded Social? Pre-reserve beverages and snacks, bring two additional guests, or get a special loaner gown in for your appointment so that you and your guests can really celebrate saying YES!